Transparent Liquid Text Logo Maker
It's a free, easy to use, online liquid text generator able to create cool liquid logos.
This powerful liquid effect designer can produce many amazing semintransparent liquid text effects. This effect maker can liquify the font face you choose and it offers great control of this feature.
Read the tips below to have the best experience when using this free online software.
People who use this tool usually also use:
IMPORTANT TIPS:
Before using the text generator, wait for the complete page loading, or you can get wrong results.
If you choose to get a transparent PNG file, the selected background color will be ignored.
If you generate a semitransparent liquid text, the background color (or background image you put behind your transparent PNG) interfere in the shown text colors.
The images shown bellow are just samples. This online liquid generator has many options, so you can create a huge number of different results. The second example was made by saving a PNG file with the semitransparent liquid option selected and posteriorly drawing it over a background image.
Liquid Text Effect 1
Liquid Text Effect 2 (semitransparent)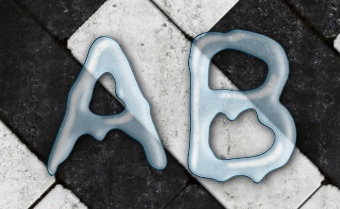 Color Picker (click a color)